Posted by
Bingo Trappers

| Posted in News | Posted on 23-11-2018
Lately, a friend asked me: tell me, what are elizabethan eyes? And I answered: oh, I don't know.  Really? Yeah, really. Oh, okay. But behind every truth there lies a lie – some big, some small, but they're always there. Or a story. On our new album Elizabethan there's a song called 'Don't steal my line', and in that song there's the line 'when I see your elizabethan eyes'. What I had in mind while writing that song was the movie Who's Afraid of Virginia Woolf, starring Elizabeth Taylor and Richard Burton. The mere power of speach – a fighting couple, killing each other with words (I grew up with a fighting couple, they happened to be my parents). Yes, elizabethan eyes could also involve the infinite gaze of William Shakespeare…
And here's a very short story. We had these plays on highschool, and I had a scene with this classmate who was so nervous at showtime that she started saying my lines – as well as her lines, of course. So I had nothing to say.
Anyhow, the Bingo trappers are very proud to present their new album Elizabethan (a co-production of Morc Records, Almost Halloween Time, Unread and Grapefruit Records – thank you again, Wim, Luigi, Chris and Simon).
You can order this  vinylalbum (with download coupon) in Europe via Morc Records (www.morctapes.com) and Almost Halloween Time (www.underwaternow.com) (handpainted sleeve!). In the U.S. via Unread (www.unread-records.com) and Grapefruit Records (www. grapefruitrecordclub.com)
Cheers!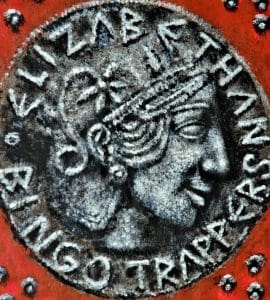 Oh, you can also listen to the songs on Spotify, and buy them via CD Baby.
The forthcoming show is on saturday, dec 8 in the Nieuwe Anita, Amsterdam, Netherlands. We'll bring fresh copies of Elizabethan and rock da house.